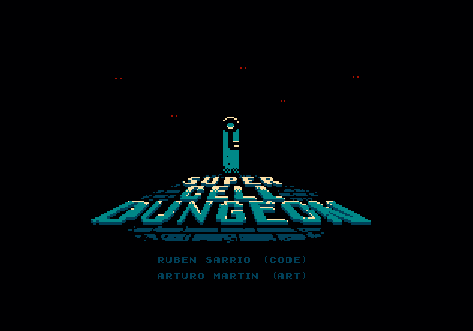 Super Cell Dungeon
A downloadable game for Windows and macOS
Super Cell Dungeon is a still-in-progress clone of Super Crate Box with NES-inspired graphics, so you should expect bugs, crashes and other weird things.
All graphics and animations were made by Arturo Martín.
The code was written by Rubén Sarrió ( https://twitter.com/rubenuxo).
Sound effects were created with Bfxr ( http://www.bfxr.net).
Thanks for the great music composed by Rolemusic ( http://rolemusic.sawsquarenoise.com)
---
Controls
Player 1
Left ∙∙∙∙∙∙∙∙∙∙
Left
Right ∙∙∙∙∙∙∙∙∙
Right
Jump ∙∙∙∙∙∙∙∙
Up
Fire ∙∙∙∙∙∙∙∙∙∙
Alt
Start/Pause ∙∙∙
Enter
Player 2
Left ∙∙∙∙∙∙∙∙∙∙
A
Right ∙∙∙∙∙∙∙∙∙
D
Jump ∙∙∙∙∙∙∙∙
W
Fire ∙∙∙∙∙∙∙∙∙∙
F
Start/Pause ∙∙∙
T
General
Zoom x1 ∙∙∙∙∙∙∙
1
Zoom x2 ∙∙∙∙∙∙∙
2
Zoom x3 ∙∙∙∙∙∙∙
3
Zoom x4 ∙∙∙∙∙∙∙
4
Fullscreen ∙∙∙∙∙
0
---
Tips
Collect almost 100 coins and you will be back from the dead!
Thanks to its agility, the archer can jump again in the air..
..while the mage can float in the air by holding the Jump button!
Pick up potions to keep your level high and your shots stronger
---
While this is a wip, we expect to release a more polished version anytime soon so we'd love to hear your opinion. Please, drop us some lines :-)
Good luck & go for the gold!
Change log
New in version 0.2
Add support for fullscreen
Add experimental support for gamepads
Add controls settings screen
Add extra dungeon
Change default controls
Remove slowdown after some restarts
A lot of bug fixes and minor improvements
Install instructions
Windows: unzip, execute & play.
Mac: If you have blocked unsigned apps you will see a warning when you try to open the game. You need to go System Preferences > Security & Privacy an press Open Anyway button or disable app limitation.